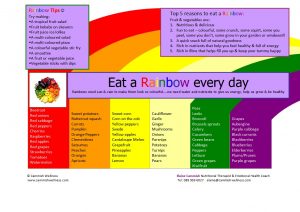 Last week I was invited to speak to children in my sons preschool about nutrition. I spoke about rainbows and the different colours in them and how our fruit and veg have different colours too. I explained how we stay healthy & get our energy, strength and superpowers from each of the different colours. We had a mini quiz to see which foods we could eat all the time or sometimes and each child got to place the food on the correct chart – green for all the time and red for sometimes.
The children got the chance to colour in fruit and veg of a certain colour using my rainbow fruit & veg colouring pages. Then they got the opportunity to taste a variety of fruit & veg and make a rainbow on their plates. I had prepared a fruit and vegetable platter with a variety of each colour so that the children could learn about varying the colours they eat. We had great fun making rainbows on our plates!
I was extremely proud of everyone who attempted to taste the foods even if they had not tried them before or said they didn't like it! I explained that sometimes it takes 10 tasting tries with our tasting tongues to get to like something
🙂
Thank you to Minna, Aggie & all of the children in the amazing Kildinan Preschool!